100% elektrisk "Start og Betjen" kran
Vi er stolte af at præsentere dig en fuldt lithium drevet pick & carry kran. Hoeflon er klar til fremtiden. C30e er en "State of the art kran" med en nem betjening.  Mulighederne er uendelige, da maskinen har meget intelligent software.  På den måde kan kranføreren helt fokusere på sit løftearbejde.
C30e er en kran med kontinuerlig joystick justering mulighed. Hver nivelleringsløfter beregner sin position for at bestemme hejsekapaciteten. Dens lave tyngdepunkt og udvide crawler undervogn gør den særdeles velegnet til manøvrering på en skråning. Maskinen er udstyret med skrånende crawlerstøtter for en stor frihøjde.
C30e har en kompakt udligger, hvilket gør den særlig kort i længden. Transporthøjden forbliver to meter, da Fly Jib passer ind i maskinens centrum.
Dette gør C30e stærk:
Trinløn udrigger positionering
Variable støtteben, der kan udvides
Endeløs rotation
Passerer gennem en dobbelt dør
Litium kran
Kørsel med belastning
Enkel kontrol
Capacity
9000 kg
Max. range
12,2m with fly-jib 20m
Max. hoisting heigt
14,5m with fly-jib 22m
Transport dimensions LxWxH
3,85m x 1,2m x 2m
Total weight
8700kg
Weight without fly-jib
7950kg (750kg)
Weight without ballast
6350kg (2350kg)
Weight without ballast, zonder fly-jib
5600kg (2350kg + 750kg)
Jibb angle
85°
Swivel range
360°
Travel speed

1st gear: 0,75km/h

2nd gear: 1,5km/h

Drive system
Elekctric, lithium battery
Inclination angle
20°
Ground pressure
0,79kg/cm2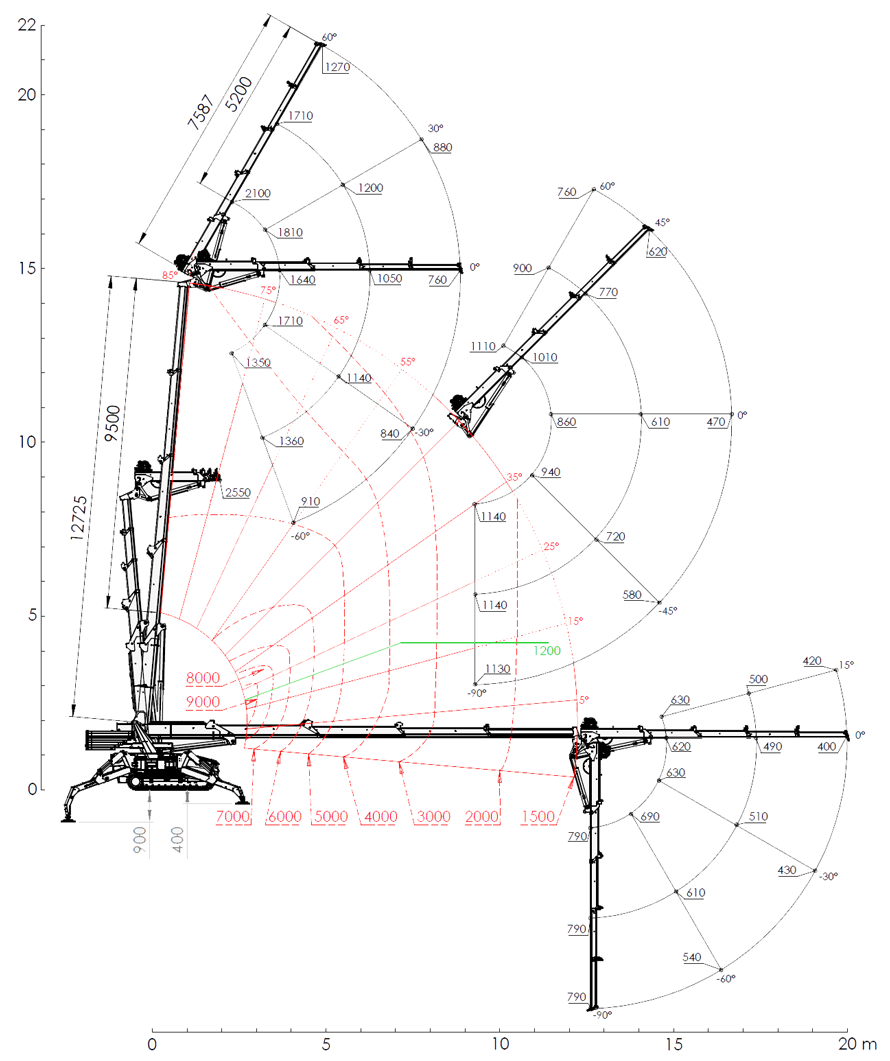 Electric motor

230v, 400v

Fly jib length

7,5m

Hoisting winch

1000kg, 2000kg, 3000kg 

Cable winch
40m lang
Hoisting speed with winch
20,8m/min
Extension
​30 graden instelbaar
Lighting

two LED lights on the front substructure,

two LED lights on the rear substructure

two LED lights on the main boom

two LED lights on the jib

Tracks

non marking